Stylish indulgence: PRIME Restaurant & Bar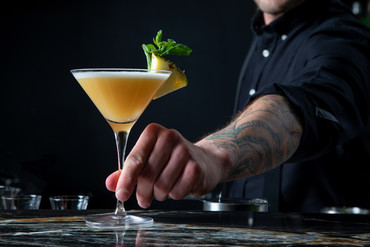 Culinary highlights and seasonal delights at the PRIME Restaurant & Bar
Please note that due to the current situation it is required to book a table for breakfast or dinner at our restaurant. Thank you for your understanding!
The recently opened PRIME Restaurant & Bar at Wyndham Stralsund HanseDom offers everything a sophisticated palate desires. The modernly designed restaurant currently seats up to 60 people. Classic Schnitzel, succulent steaks and modern creations like varied fish dishes - everything is carefully prepared with regional and seasonal ingredients. Our chef just knows how to create a real taste explosion!
Exquisite wines and zesty cocktails
Round off your evening enjoying one of our refreshing cocktail creations at our PRIME Bar after you have satisfied your tastebuds. If you prefer to keep it classic, our team is happy to recommend you one of our selected wines or to serve you a freshly-tapped beer.
PRIME Restaurant & Bar: overall perfection
What starts with our elaborate food & drinks menu is perfected to a harmonious whole by the modern and stylish interior of our PRIME Restaurant & Bar. Let us put the cherry on top of your stay at Wyndham Stralsund HanseDom!
Restaurant opening hours
Breakfast: daily 6:30 a.m. - 11:00 a.m.
Dinner: daily 6:00 p.m. - 9:30 p.m.
Hungry after all the fun and games at the adjoining HanseDom? Do not worry - of course, your culinary wellbeing is also taken care of directly at the water fun park: Gastronomy at HanseDom