Private events at the Wyndham Stralsund Hansedom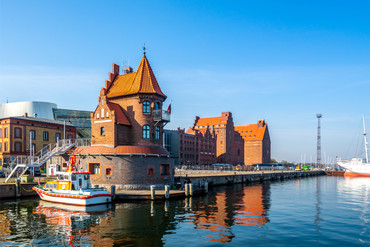 The perfect place for your event in Stralsund
Be it a birthday, a christening, a prom, or a wedding party - the Wyndham Stralsund HanseDom Hotel offers the perfect framework for your events.
It is a big task to organise a large event. But do not worry: You do not have to take it all up on yourself! Our experienced and professional event team is happy to support you with the organisation and implementation of your event.
Get our all-inclusive package for your event! Contact us for a customised offer tailored to your needs: Call us at +49 (0) 3831/ 37 73 -9 17 or send us an email.
Birthdays, christenings and other family celebrations
Our 5 meeting rooms on ground-floor level accommodate up to 250 people, which makes them the ideal venue for festive dinners and banquets on special occasions. The rooms are equipped with state-of-the-art video technology, Wi-Fi and air conditioning and can be individually decorated and equipped according to your wishes and needs.
Choose your favourites from our selection of food and beverages and we will take care of the culinary catering for your event.
Proms concerts and other dance events
With over 1,000 tribune seats and modern technical equipment, the VogelsangHalle is a popular venue for music events with DJs or live bands. We take care of technical and catering details while you and your guests dance the night away.
Weddings
Say "I do" in front of a picturesque sunset at the shores of the Baltic Sea. If the weather allows it, we organise your whole celebration, including a champagne reception, barbecue or buffet and the musical support of your choice on the nearby beach. If it rains, we just take the whole party inside.
Adventures and excursions
Do you really want to wow your guests? Host your event on a sailing boat! Enjoy the fresh sea breeze and the extraordinary view on the coastline and the island of Rügen while we take care about your well-being aboard.
Children's parties
We also think of our little ones. Organise an unforgettable birthday party at the water park for your child! Take a break at the wellness area while we entertain the children.
The best comes for last: With 114 hotel rooms, the Wyndham Stralsund HanseDom provides enough space for all of your guests, so that no one has to leave the party early.